Welcome to BlackBoy Shopfitters
"All labour that uplifts humanity has dignity and importance and should be undertaken with painstaking excellence."
- Martin Luther King, Jr.
Commitment
The teams that manage the projects own the company. From humble beginnings over twelve years ago, operating from a garage, the company has grown in leaps and bounds to become one of the leaders in the industry today. We have the expertise to co-ordinate, evaluate, control and monitor every aspect of the customer's development and have created a deep understanding of customer's needs.
Communication
From the planning stage to finished product, we make certain that effective communication occurs between developers, contractors, designers, architects, project managers and tennants.
Clients
BackBoy is proud of its client list which includes some of the largest in their sectors. We have been contracted to: WBHO, ABSA, Edcon, Soviet, Triumph, Cradle Hotels, Adv Tech and Stuttafords to name a few. Our repeat business from these clients is a testament of our commitment to excellence.
Services
We offer shopfitting services for many market sectors: Decorators, Designers, Financial, Retail, Education, Hospitality, Medical, Corporate, Commercial, Property Developers and bespoke Individuals.
Partnerships
We have developed partnerships with other leaders in our industry which gives us the capacity to offer turnkey projects of any size to our clients.
Factory
Our factory is situated centrally in Johannesburg and operates nationally, We have over 1200 square metres of work area as well as a very effective spray booth facility. Non-catalyst to polyurethane paint projects are expedited by our professional team, with a unique drying facility to back them up. We have an ongoing training facility, our seniors have certificates to work with modern solid surfacing products such as Surino.
"The object of all work is production or accomplishment and to either of these ends there must be Forethought, system, planning, intelligence and honest purpose, as well as perspiration. Seeming to do is not doing."
- Thomas A. Edison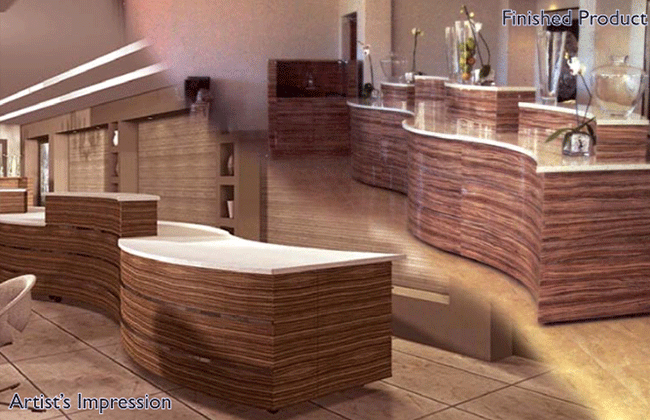 Products
Cellular Displays
Display Stands, Showcase Counters, Cabinets in Glass
Drywalling
Fixtures and Fittings
Free Standing Garments Racks and Clothing Rails
Fixed and Mobile Stands
Impulse Buying Stands
Metal Display Systems
Modular Displays
Point of Sale Components
Reception Areas
Retails Shelving, Gondola Shelving
Slatwall Systems
Shop Counters, Cabinets in Glass and Metals Tables
UV Bonded Glass Displays
Wall Bays and much more
Finishes
Aluminium Cladding
Dibond
DuPont Corian Solid Surfaces
DuPont Zodiaq Quartz Surface
Exotic and Indigenous Woods in Solid Timber
Formicas
High Pressure Laminates
Masonite Products
MDF Supawood
Metawood Melamine Novaboard
Particle Board
Pegboards
Perspex (Extruded and Cast Acrylics)
Processed Glass (Clear Float Toughened Sandblasted Laminated Safety Glass)
Solid Surfacing (Surrino, Caesar Stone)
Surino Solid Surfacing
Timber Veneers
UV Permanent Bonding Applications
Valchromat